to

Caring Touch
Effective pain relief for all types of pain
Office: 850-231-9131 Cell: 850-832-6923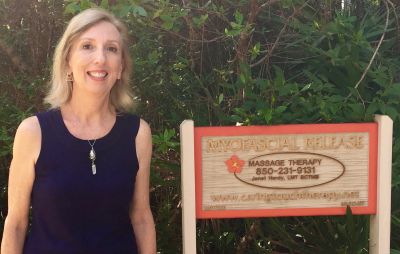 Celebrating 23 years!
Janet Hardy, Expert Myofascial Release Therapist, Board Certified, FL Licensed Massage Therapist tailors individual therapy sessions to relieve pain and stress while increasing range of motion and improving your posture. Myofascial release creates a healthy environment in the tissue, promoting optimal function of organs down to the cellular level. The authentic healing of John F. Barnes' Myofascial Release therapy is the best pain relief therapy that I have encountered in my 23 years of massage therapy and the many modalities I've studied.
*Do you feel tightness or discomfort when you bend over to pick something up? Do you experience any stiffness when you get up in the morning?
*Would you like to get back to the activities you need to do or enjoy doing?
I specialize in Myofascial Release (MFR), which addresses your fascial web of connective tissue. You may find this to be one of the most effective techniques you've experienced for pain, tightness and stress relielf EVER! Let me stretch you and work out your kinks!
Located in Santa Rosa Beach, FL between 30A and the Choctawhatchee Bay. Take 283 north of Hwy. 98, then go 1 mile east on East Pt. Washington Rd. Take a left on Cabbage Rose and a right on Wild Blueberry Way. APPOINTMENT ONLY
What is Myofascial Release?
I invite you to read the information on MFR by clicking on 'Benefits of MFR' and also use the link on that page to explore the J.F. Barnes' Myofascial Release website with lots of information available to you.
Please 'Like Me' on Facebook. Click on the Facebook link in left column to go to my FB page. :)
If you are a JFB therapist and have taken MFR I, you are welcome to attend the NW FL Study Group meetings. Please email me to be put on the email list.
Myofascial Release ~ "The Health Care of the Future", John F. Barnes
Concerned ~ Caring ~ Centering
MA17333 MM30497